KC Metro Challenger Football League
Our Mission
The Kansas City Metro Challenger football league was founded in the fall of 2006 after Shannon Milbourn watched a Super Bowl special in January of 2006 showcasing the one and only Challenger football league at that time. He was moved and inspired to bring a Challenger league to the Kansas City metropolitan area. With the help of some great people, Jeff Tupper, John Evans, and everyone at the Champions League in Blue Valley Kansas the dream became a reality.
We play our games at the 68 Inside Sports indoor field located in Overland Park, Kansas.
Although we are located in Kansas we accommodate kids from all over the metropolitan area and beyond, covering Missouri and Kansas. Distance is not an issue with our league, if the parents can get the players to the games then they can play. There is no cost to play in the Challenger league which helps relieve parents from incurring any additional expenses.
We feel we have a great and exciting league here at the Kansas City Metro Challenger Football league. The facilities, coaches, and helpers are all top notch individuals. We look forward to seeing many happy, smiling faces for many years to come.
Message from Shannon Milbourn
My name is Shannon Milbourn and I am the director of the Kansas City Metro Challenger Football league. I have been working hard to get the word out there to promote our league. It is an organized flag football league for boys and girls ages 5 and up who have special needs. We play in the fall and spring with open enrollment throughout the year. We welcome players from all over the Kansas and Missouri area; we will accommodate anyone who wants to play. There is no fee to play or equipment to buy. As long as the parents are willing to travel to the fields we will give them a wonderful and safe place to play football.

Please check out our website: www.kcmetrochallenger.org to register online, see league details, game schedules, and find contact information. If there are children or individuals with special needs in your school, I encourage you to pass on this information. I have included an official league flyer that you are free to pass onto the parents. We have a DVD available that showcases the kids participating in our games. If you are interested in obtaining a copy of the DVD, please let me know and I will mail one to you. If you have any questions or concerns, please feel free to contact me by phone or email. 
There is no fee to play or equipment to buy, we provide everything they need to have a great time.
We have signups twice a year, once in the summer and winter, it is a one time signup so once the players are signed they are good for however they want to be a part of our league.
---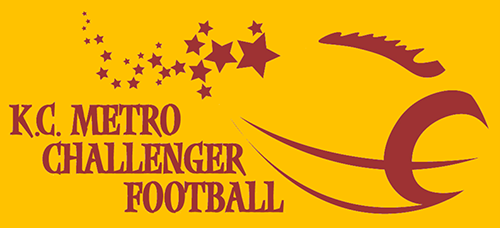 CONTACT US
Email Us!
kcmetrochallenger.org
Shannon Milbourn, Director
716 Faraon Street Apt 9, St Joseph, MO 64501
913-850-9646
---