Children's Mercy Adaptive Sports Medicine Program
The Children's Mercy Adaptive Sports Medicine Program is making it possible for children and young adults with physical or cognitive impairments to become more active and excel in sport with expert medical guidance, whether that's running on the playground, dancing, weightlifting, wheelchair basketball, or any other adaptive sports.
By combining elements of Rehabilitation and Sports Medicine, individuals with medical, sensory, social-psychological, mobility, balance, coordination or cognitively impairing conditions may benefit from this program. This includes individuals at all ability levels, from those who are just learning to become active, to elite para-athletes.
Dr Fisher has expertise in musculoskeletal, biomechanical, neurologic, and developmental evaluations and experience with adaptive sport-specific issues such as classification, equipment, and sport regulations. During the appointment, which is covered by insurance, Dr. Fisher, evaluates the patient and discusses goals. Then, he will create a personalized plan to help each individual become more physically active or level-up in their sport, ultimately providing guidance to achieve those goals.
The interdisciplinary services include:
Disability-specific pre-participation physicals
Medical history, physical exam, and thorough biomechanical evaluation with a focus on abilities
Recommendations for types of activities available
Tailored medical and rehabilitation plan to prevent and treat musculoskeletal injuries
Evaluation, prescription and advocacy for any necessary adaptive equipment
Therapeutic use exemptions for medications, if needed
Individualized plan to safely begin physical activity and achieve sports goals
Long-term management of rehab needs in the adaptive athlete
Incorporation of 3D motion capture capabilities
Interdisciplinary coordination with physical therapy and coaches
Experience with local, regional and national organizations and resources focused on individuals with athletic challenges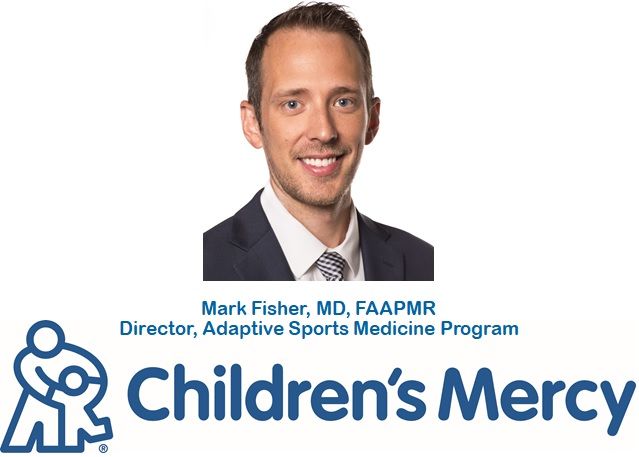 CONTACT US
Children's Mercy Adaptive Sports Medicine Program
Division of Pediatric Rehabilitation
2401 Gillham Road, Kansas City, MO 64108
(816) 234-3970, select Option 1
www.childrensmercy.org/adaptivesports
Children's Mercy offers the Adaptive Sports Medicine Program at two convenient locations:
Children's Mercy Sports Medicine Center of Village West
1801 N. 98th Street, Kansas City, KS 66111
Children's Mercy College Boulevard
5520 College Blvd., Overland Park, KS 66211
Please visit the website or contact the program to find out more information or to schedule an evaluation.
A physician referral is not necessary.
---
Blog article:
"Adaptive Sports for Kids with disabilities:
7 Things Parents Should Know"
by Dr. Mark Fisher
Click here to read.