Wheelchair Tennis Practice - TWP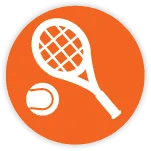 Practice on select Mondays, from 10:00-11:00am
Open to youth (age 10+) and adults.
The Whole Person (TWP) is an organizational member of the United States Tennis Association and offers the fun and exciting sport of wheelchair tennis.
Wheelchair tennis is one of the fastest growing recreational and competitive sports for people with disabilities and is becoming one of the most accessible and integrated sports around the country. The Whole Person's goal is to make tennis available to everyone, whatever the disability. Tennis is adapted to the disability, not the disability to tennis. Because playing tennis benefits one's health, fitness, self-confidence, self-esteem, and even provides improved mobility necessary for independent living, TWP promotes tennis in the greater Kansas City area. Come join us on the courts for fun, friendship, and fulfillment.
Wheelchair tennis follows the same rules as able-bodied tennis, with one exception. That being, the wheelchair tennis player is allowed two bounces instead of one.