Meet Anthony Trakas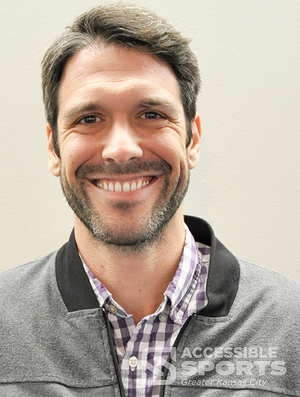 AS-GKC Accessible Sports Outreach and Inclusion Specialist
Anthony Trakas was raised on the east side of the metro. Anthony graduated with a degree from Loyola University New Orleans, a graduate degree from Villanova University, and has spent most of his professional career in marketing and finance analytics at large corporations.  As part of the Dow Chemical Company corporate marketing team, Anthony was able gain experience in sports marketing with their London 2012 Olympics.
Anthony has a passion to support his local community.  Anthony spent his high school senior service month in the PE class of the Rainbow Center in Blue Springs, Habitat for Humanity and Junior Achievement in New Orleans, served five years on the board of directors for a not-for-profit credit union on the east coast, and was recently a children's ceramic teacher at Mattie Rhodes on the Westside.
He serves as The Disabled But Not Really Foundation's Chief Financial Officer and may know some of you from the accessible sports community.  A lifelong passion for sportsmanship, competition, and community has led Anthony to become the Outreach and Inclusion Specialist for the Accessible Sports-Greater Kansas City (AS-GKC.net).